This is one of the sweetest homes on Instagram (@wunderblumen), so I'm excited to share peeks of it with you today. I really love the many warm colors and the patterned wallpaper sprinkled about here and there… Daniela is a German school teacher (pedagogue) living in Kassel with her husband Stefan, their daughters Marlene and Martha, and their kitty cat Polly. Her grown son Moritz lives in Berlin.
In Kassel, their half-timbered house is set in a small district nearby to fields and meadows, which they feel is like living in a village in the middle of a vibrant city complete with cafes, shopping, a subway AND nature nearby (they are 2 minutes from open land). Their home has two families living inside, Daniela is on the top floor with about 100 m2 for her family to enjoy (about 1,000 square meters). You will really love this cozy and sweet home, I'm sure – there is a definite warmth, a spirit of love, and it's really a pretty space but still feels lived in and not like a catalog or showroom – that's so appealing, when someone has the knack of making something beautiful that is still very functional and cozy. Usually, homes tend to be "really" home-y (with no attention paid to decor) or they are overly decorated and look like a magazine and tend to be too "perfect". Finding that balance is key, I feel, to loving your home. When it looks great, feels great and supports your life.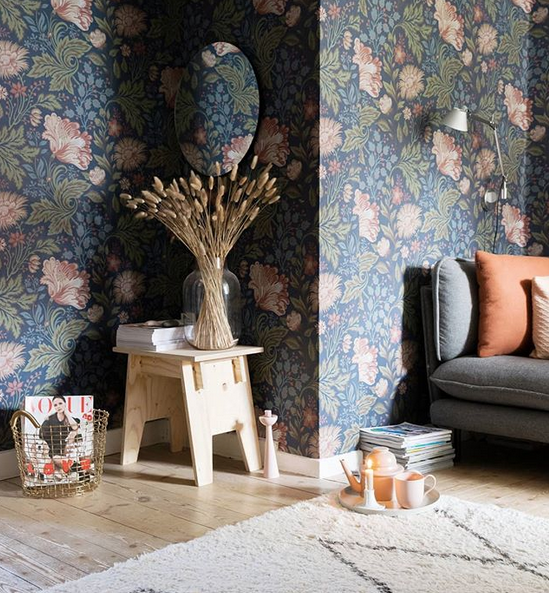 The house was formerly part of an old monastery complex and was built around 1880 and was partially destroyed during World War II. After the war ended, it was rebuilt so there are now two rooms with slightly higher ceilings than the rest of the house. Daniela really loves the quaint and character-filled home they have, it tells stories… She even loves how the floorboards creak and the walls are all crooked, "
I have always had a penchant for old residential objects with history. For a short time, I lived in a normal rental apartment and realized that this does not correspond to my living needs." Their home is cozy and the colors are just beautiful – I think this space is absolutely charming and I love the Autumnal color palette.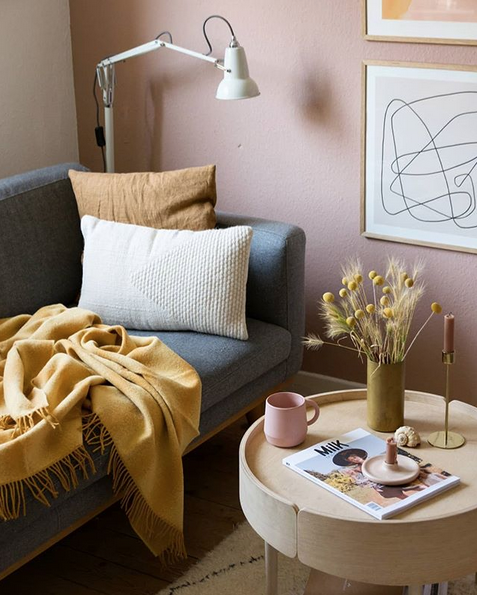 Meet Daniela…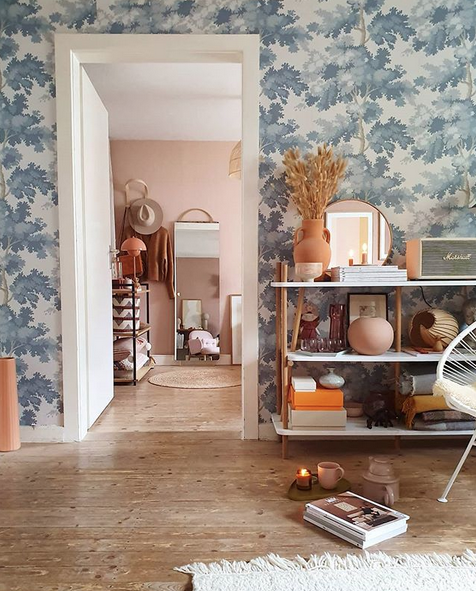 I took some time to chat with Daniela about her home, because I think it's nice to hear directly from her and not that I just write everything – it's more personal and somehow more charming. So here is the conversation that we had, I've edited to include the fine bits so you can enjoy both the images and text together without spending too much time. I know more and more, blog readers want shorter content, but sometimes a story is so lovely it's just not possible. So maybe relax for a few minutes and spend some time…
How would your describe your style?
Colorful without being flowery, pastel without being girly, Scandinavian without being clean – a mix of old and new – of design and finds, me! I enjoy change, playing with colors, beautiful pictures; I love to discover old furniture and to combine it with beautiful simple design pieces. A mix of old and new embodies for me more personality in living than a uniform look. When setting up, it is important to me that color harmony is achieved. Also that our family feels good here and the home supports us – this is not an exhibition space, but a home!
What does home mean to you?
First, my family and friends are my home; they make a place beautiful first and home. So the question arises, what is home still for me, except for the people I need for this feeling. It's the many places that awaken memories in me, the moments I've experienced there. My garden, our district, our allotment garden in the change of the seasons – walk between fields and in the green around our home, drink coffee in my favorite coffee. Home is also a feeling of opening the door and being safe and secure.
Do you have a favorite room?
I love our kitchen very much; she is the heart of our apartment. We laugh, cook, play, drink coffee with friends, I like to spend a few quiet minutes or even hours in the morning (if I have time), I also like to work there. It's not big, but it's my place.
Since you love the kitchen, what is your favorite meal to cook and why?
I like it best when my husband cooks. I can cook, but when Stefan is cooking it is better.! I love my husband's Bolognese – and everyone agrees on this meal, which is not always the case with children. I eat so much!
What would you like to change about your space?
I would like to add a balcony, which I can enter from our kitchen. It should be square, like a roof terrace. Here I would plant many herbs and flowers in pots and create a little oasis to dream.
What do you like to do at home?
I like to listen to music and I love nice magazines or books. I enjoy my early morning coffee breaks. I like to do yoga, play with my kids, sometimes I like to take photos (of course for my Instagram).
How do you hope your guests feel when they visit your home?
That they feel welcome, that they feel natural, that they can be as they are, that they can relax…
When you entertain, how do you do it?

I am always happy and a very natural host, so I do not feel like an entertainer – mostly everything is in the "flow"; we cook for friends, there is coffee, in the summer wine spritzer – we talk, eat together, sometimes play games, listen to music, laugh a lot, dance- it's easy!
Speaking of dance, what's on your playlist right now?
I love music; it has always accompanied me. We have a huge collection of records. I especially like electronic music. Here are a few songs on my playlist at the moment: David Bowie: Heros, Blumfeld, DJ Koze-Thousand Tears Deep, Ornette's "Crazy" (Noze Remix), Nicolas Jaar – Mi Mujer
, and Nu & Jo Ke – Who loves the sun.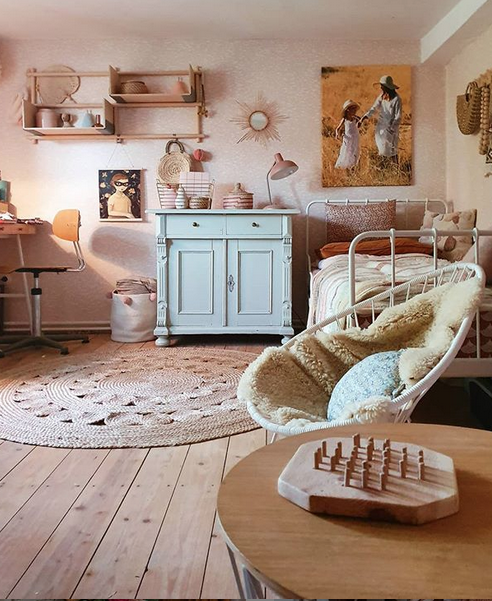 What are some of your favorite flowers and plants?
I really love so many flowers; every season has its peculiarities. Here are just a few: Poppies, peonies, roses, ranunculus, scabiosa, tulips, bluebells – I like old peasant garden shrubs in my garden, etc.
Which candles are you using at the moment?
P.F. Candle Co. (Amber & Moss or Teakwood & Tobacco) Lelabo (Santal 33)
What is your "dream piece" for the home?
Actually, I am very happy with our interior, sometimes I would like to have a larger sofa on which we all have space, for example the Hay Mags – I still find that very nice after years!
What city do you love to shop most?
Berlin – I love this city, not just for shopping. But there are many great little shops here and not just chains – you can browse, discover and be inspired!
What are some of your favorite Instagram accounts?
@anna.cor – I love Anna's style – simple, tasteful, Scandinavian, restrained and yet so cozy (Anna has an eye for small details down to the last corner) – a mix of wonderfully selected design pieces and vintage finds!
@mikanueverydaybag – Nu has an exquisite taste for beautiful things such as wickerwork or textiles, which she presents in beautiful pictures in her home – I'll always find it here!

@swantjeundfrieda – Swantje – who knows and does not love her style – her feeling for colors, selected special things like lamps, ceramics or prints and I really love her flat.
@donnerstagsonntag – So colorful, so beautiful, so special down to the last detail!
Thank you so much Daniela for spending time with me on decor8 today, I look forward to continue to follow you on Instagram – even more now that I know you better. Thank you again for stopping by!
Love,
Holly
(Photographs with permission from Daniela at Wunderblumen)